May 26th, 2020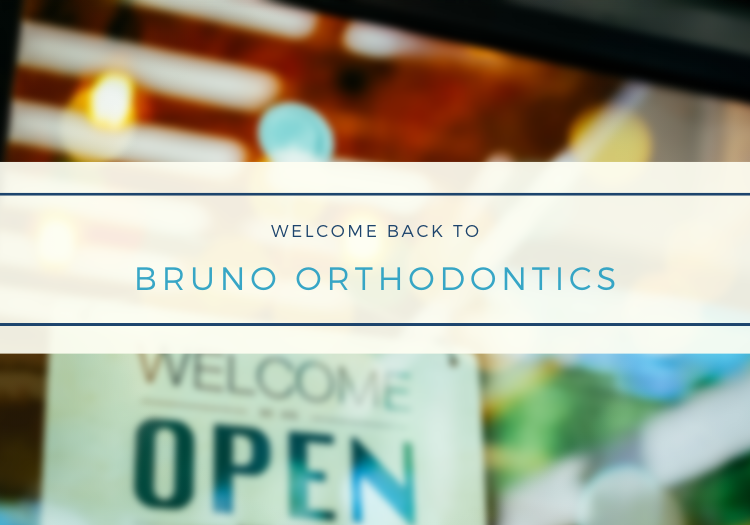 Dear Bruno Orthodontic families,
We are relieved that the governor has lifted the executive order that limited all "non-life sustaining" orthodontic treatment.  While we and many of our patients are ready to resume patient care, we realize that some people may feel anxious about returning to "life as we knew it" before March 18, 2020.  The entire Bruno Orthodontics team wants you to know that we can sympathize and we are here to support you through this challenging time.  We have spent our time away from patients diligently preparing ourselves and the office for our reopening.  Some of the enhancements we've made include:
We educated ourselves with the latest guidance from the leading health authorities (CDC, ADA, MDA, AAO) with regard to sterilization, disinfection, and patient safety measures.

 

We have implemented their revised protocols, where indicated
We have instituted daily wellness checks for all team members and Dr. B
We have reconfigured our office to promote social distancing measures
We have refined our "in-car waiting room" protocol to better serve you
We have updated our PPE to reflect updated standards, so we may look a little different when you see us next time :)
We have researched and implemented TeleOrthodontics and we're employing it, where appropriate, to make the most efficient use of both patient and doctor time
We have adjusted scheduling to reflect distancing as well as TeleOrthodontics
We continue to stress the importance of communication between our office and all patients
We understand that the pandemic has affected every individual very differently, including each of us.  It is our hope that a visit with our office may provide a break from the monotony we've all been experiencing, and afford all of us the opportunity to share a connection, a laugh and a smile together.  This pandemic has been all-consuming for most of us, but it too will fade.  Bruno Orthodontics made the choice to utilize our time away from patient care to reexamine ourselves and our practice so we could emerge better prepared to adapt to the changes that lie ahead.  We miss you and we can't wait to get back to our new normal, whatever that is, with you.
All the best,
Dr. Bruno, Patti, Jackie, Kate, Kristy and Erin